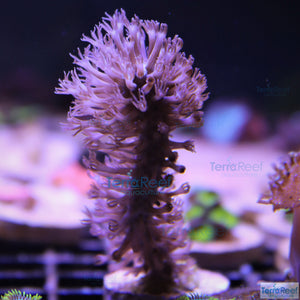 Tracey Morgonian Gorgonian WYSIWYG Coral Frag 5
Regular price
$34.00
$0.00
Unit price
per
This particular one is about 2" tall. From ReefGen, "Morgonian Gorgonians are named after their most celebrated owner, Tracy Morgan from "30 Rock." These gorgonians earned this name when Tracy Morgan was visiting the aquarium, and while marveling over Joe's giant gorgonian colonies, he exclaimed that they were his favorite coral at the aquarium! " "Morgonians are most likely a Pseudoplexaura sp. We love them for their flowing beauty. Morgonians are fully photosynthetic although they feed aggressively on cyclops and other zooplankton."

Like all the corals currently listed from TerraReef, this specimen is an aquacultured coral.

It is very important that you are aware of the care requirements of these corals before ordering. Please take some time to read some information from a few sources.

This item is a WYSIWYG item meaning the specimen you receive will be the exact one in the picture. Sometimes we include images of our mother colonies as well to give an idea of what the corals will grow into under proper care. Size is an approximation.
---
Share this Product
---