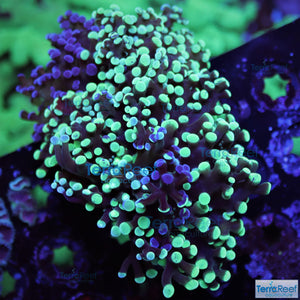 TerraReef MF Sweet Rainbow Bicolor Frogspawn WYSIWYG 15
Regular price
$114.00
$0.00
Unit price
per
These corals are simply awesome! These two faced, random colored splattered frogspawns just randomly showed up among the hundreds of green polyps we have. We are not sure if this is a chimera or a graft or how these occurred. Within a single polyp some of the tentacle tips are bright ultra-green and some of them are what are typically referred to as "purple". We have seen similar corals called "bi-color frogspawns", "Multicolor frogspawn", "Splatter frogspawn", and "Rainbow frogspawns", but we have never seen ones with such bold colors as these guys. Some of the specimens from the mother colony might be called, "two-faced frogspawn", "half-n-half frogspawn", or "split screen frogspawn".

When possible we try to include under both whiter light and very blue light using a lens filter like many people are familiar recently.

Like all the corals currently listed from TerraReef, this specimen is an aquacultured coral.

It is very important that you are aware of the care requirements of these corals before ordering. Please take some time to read some information from a few sources.

This item is a WYSIWYG item meaning the specimen you receive will be the exact one in the picture. Sometimes we include images of our mother colonies as well to give an idea of what the corals will grow into under proper care. Size is an approximation.
---
Share this Product
---